Day 1-4: Masai Mara
Mara Bushtops' location on the plains of the Masai Mara positions it with unmatched views from the camp's main areas and private decks. Watch animals congregate from the loungers on your private deck or comfort of the tents' beds, and enjoy 5-star gourmet meals from the camp's accomplished chefs.
Daily morning and afternoon game drives with excellent rangers, as well as spotlit night drives, take guests across the beautiful plains and their stock of fascinating animals. The vast plains host the famous migration of wildebeest, as well as plenty of predators, gazelle, hippo, giraffe and much more. Take the opportunity to look out onto the Mara from a hot air balloon.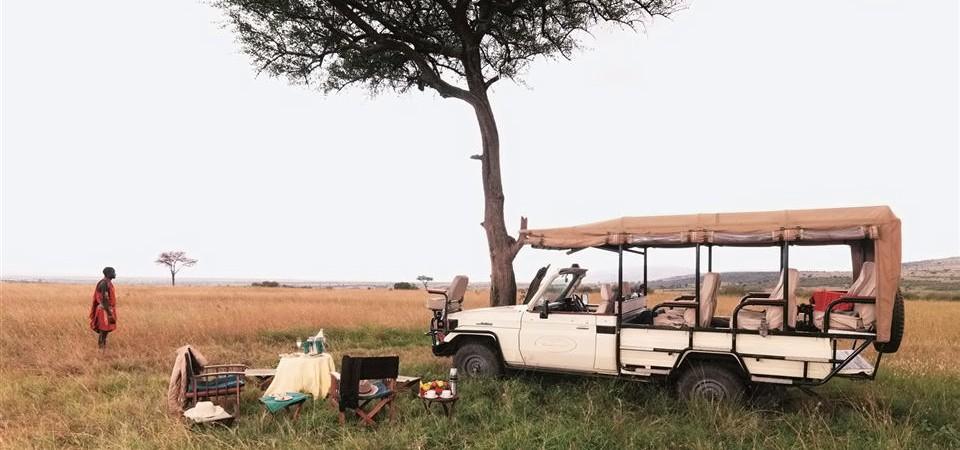 Tents at Mara Bushtops blend rustic, natural bush camp with minimalist luxury, boasting huge decks with loungers, hot tubs, indoor and outdoor showers, and butler service. Tents open on three sides for maximum exposure to the plains and its incomparable views. The camp is solar-powered, making it eco-friendly.
Mara Bushtops Detailed Info
Luxury tents with Jacuzzis, outdoor showers, spacious decks, and every modern amenity
Lounge and dining area, swimming pool, restaurant, library and campfire area
Wellness therapist for massages and treatments in your room
 Day 4-7: Serengeti
Resting in the rolling hills, with direct views onto the great migration, Serengeti Bushtops is the perfect complement to Mara Bushtops. Take daily drives with knowledgeable trackers, discovering the vast numbers of predators and other mammals that reside and migrate through the Serengeti's sprawling plains.
This camp follows the same minimalist luxury of Mara Bushtops, with personal butlers, panoramic views, hot tubs, large wooden decks, and WiFi. Another beautiful blend of a luxury hotel with an authentic bush camp atmosphere, without having to relinquish contact with the outside world.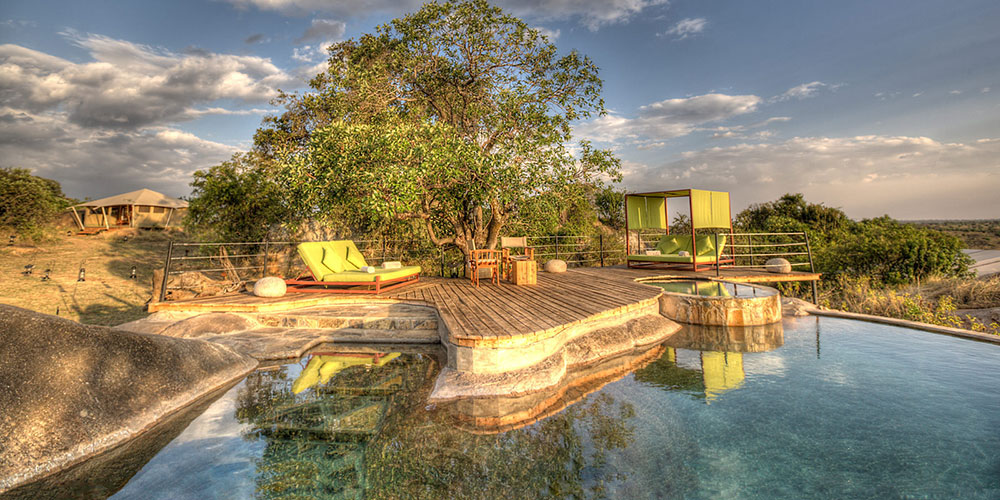 As with Mara Bushtops, all meals are included, and bush dining is a special treat. Rotating menus, delicious breakfast buffets and 3-course lunches will ensure you never go hungry. Spend evenings around the campfire sharing safari stories. Complimentary massages can also be enjoyed in the privacy of guests' tents.
Serengeti Bushtops Detailed Info
Bar, library, wine cellar, natural stone swimming pool with a view
15 luxury tents form an opulent haven
24hr room service, outdoor tub, spacious en-suite bathroom
Extra Details
Included in This Package:
3 nights at Mara Bushtops Camp, including all meals and game drives
3 nights at Serengeti Bushtops Camp, including all meals and game drives
All return airport transfers
All domestic flights
Please note that the price does not include international flights