Kapama Private Game Reserve
The Kapama Private Game Reserve is the largest single-owner reserve in Africa. It is located on a vast area of land, over 1,300 hectares, and the unspoiled wildlife of the area can be seen in abundance on safari. The big 5 are ever present in the region, along with over 300 bird species and over 40 mammal species in total.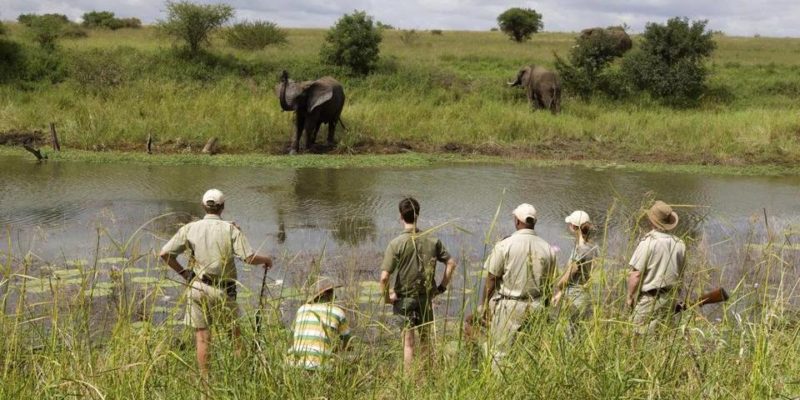 Kapama Safari Packages
Introducing the Kapama Safari Lodges
It isn't all about the safari at Kapama either. With four huge and luxurious lodges, this game reserve, located between the Greater Kruger National Park and the northern Drakensberg mountain range, stands proudly as one of the biggest attractions in the country. There is no proverbial "roughing it" in this jungle; Kapama's lodges offer unparalleled luxury and beauty that cannot be described with a writer's fluffy adjectives.
Perfect safari destination, offering a vast expanse of unblemished land to traverse while observing wild game.  Four large, unique and well-constructed lodges to choose from, each better than the last and featuring modern amenities which provide the perfect contrast to the old-world craftsmanship and décor of the buildings.
Two daily game drives—one in the morning hours and one in the afternoon—take guests around on a hunt for the big 5 African animals: leopard, lion, buffalo, rhino, elephant.
One of a kind of walking trips, balloon rides, elephant rides, and other Kapama-specific features to keep everyone on the safari active and happy for the duration of their stay.
Kapama Wellness Centers
Situated in the wild African bush, the Kapama Wellness Centers are designed to be an uplifting destination for visitors who need their bodies relaxed and their minds reinvigorated. Spa treatments include facials, massages, mud bath, hot stones, exercise, and a wide array of beauty treatments.  All spa technicians are highly trained and well adept at their chosen craft. You'll find wellness centers at River Lodge and Karula.
Directions
Kapama is easy to find due to its location along the border of the Eastgate Airport. From the airport, guides will transfer guests via Land Rovers to the lodge of their choice. South African Express Airways runs two flights per day between Eastgate and Johannesburg International. Each flight can carry 50 passengers, and all flights must be booked in advance.
Want to Keep Exploring South Africa?