Cape Town Holiday
Cape Town's beauty is notorious, hugged by Table Mountain and the Atlantic Ocean, the city's exceptional scenery is matched only by its lively and distinctive nightlife, inhabitants and unique meeting spots.

Places to Stay in Cape Town
There are many beautiful places to stay in Cape Town, and we can help you find the one for you.
Top Safaris Near Cape Town
Tour Packages that Include Cape Town
Many of our tours visit multiple places in South Africa, but these are a glance at what a tour including Cape Town could be like for you.  We custom build all packages, so once you enquire we can get to know your needs and budget.  This way we make sure you get just what you want.
Things To Do & Around in Cape Town
Cape Town's City Bowl is constantly a hive of activity and contains some of the city's best attractions – Greenmarket Square, the Company Gardens, multiple cafes, great restaurants and markets, museums, the Waterfront and District Six. With the combination of its utterly inimitable, superb scenery and thriving cultural life, there is no place quite like Cape Town.
The Atlantic Seaboard runs from the V&A waterfront along the Sea Point promenade to Llandudno beach, along which there are plenty of fantastic beaches, restaurants, and bars. There are also many towns and attractions to see on the drive to Cape Point, which includes a scenic drive through the fishing village of Hout Bay on the west of Table Mountain or through the quaint villages of Fishhoek and Simon's Town on the eastern side of the mountain. The city center itself also holds a surplus of attractions and hangouts.
Greenmarket Square
This historic square in the city bowl is the second oldest public site in Cape Town, built in 1696. Its purpose over the years has changed, with trades as widely disparate from slaves to fruit and vegetables, but is now a thriving curio market.  Here are some pictures I took on a recent visit.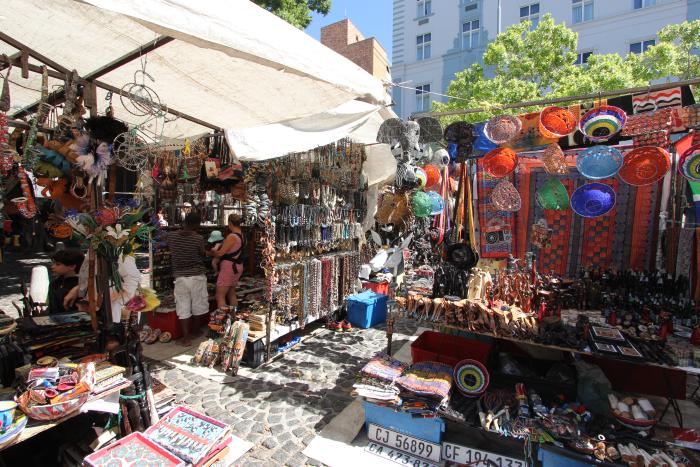 The Castle
The country's oldest colonial building still in existence is a star fort built between 1666 and 1679. The fort's fascinating history can be enjoyed independently or through guided tours. Guided tours can be taken all week, except on Sundays.
The Company's Garden
The Company's Garden lies adjacent to the parliament buildings and consists of a long stretch of oak trees populated by squirrels, statues, herb and rockery gardens, and an aviary. Despite being in the center of town, the gardens are surprisingly quiet and tranquil and lead up to the South African Museum and planetarium, as well as the National Art Museum.
Set within the nature reserve and dedicated to preserving and promoting the Cape's indigenous fynbos and flora, the impressive botanical garden on the slopes of Table Mountain.
Fynbos is vegetation unique to the Western Cape, famous for its large degree of biodiversity with around 9000 species of plants within its family; a wealth and unmatched concentration of flora in the smallest area of all the world's floral kingdoms.
Table Mountain and Lion's Head
Avid hikers should not skip a walk up Table Mountain. There are several trails to the summit, with different levels of difficulty for both inexperienced and expert hikers. The views of the city and bay are unmatched, so be sure to avoid the tablecloth (Capetonians' affectionate name for the sheet of cloud often tumbling over the mountain) and choose a clear day for your walk. An alternative route up the mountain is the Table Mountain Aerial Cableway, a circular rotating cable car that offers breathtaking, 360-degree views of the city and ocean.
Lion's Head is another unmissable hiking opportunity; the best feature of this trail is the full moon hike. Each full moon sees hundreds of walkers trailing the 1-hour walk up the mountain to watch the sunset over the Atlantic and take a stroll back down by moonlight. Seeing the dynamic landscape of the city lights from the peak is a magical opportunity.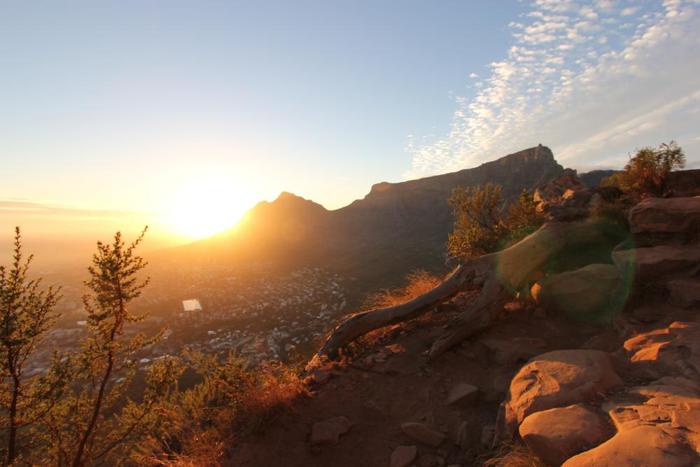 The Bo-Kaap
The Bo-Kaap is situated just above the city center. It is consists of noticeably colorful and historic houses tightly packed together on the side of steep slopes. Bo-Kaap is the heart of the Cape Malay heritage where visitors can learn a bit more about the Cape's slave history.
Long Street
This vibey, bustling street makes for a fun visit no matter the time of day or night. Stocked with fascinating little shops, bookstores, fantastic restaurants, and ambient pubs, Long Street can provide hours of amusement. Try craft beers from around the world at the Beerhouse, sample excellent gourmet burgers at Royale Eatery and browse books on southern Africa at Clarke's Bookshop.
The Old Biscuit Mill
The Mill's complex history may interest some, but what makes it worth a visit is its weekly food market. Saturday mornings see the grounds populated with a vast variety of food stalls, with international offerings from dim sum to waffles to croissants and bagels. Parking is limited, and the market's popularity means hordes of locals and tourists, so try to get in and out early.
The V&A Waterfront
The Waterfront has plenty of indoor and outdoor diversions, with shopping and restaurants, to keep families, groups and single travelers busy all day. The Two Oceans Aquarium is a great outing for both adults and kids, while everyone can enjoy the boat trips and sunset cruises. The Robben Island ferry departs from the Waterfront.
Robben Island
The island prison where Nelson Mandela spent 18 of his 27-year jail sentence is a beguiling and necessary space to learn about South Africa's brutal past. Tours are generally around 3 and a half hours long and include the return ferry trip, a tour of the maximum security prison (and Madiba's jail cell) and the valuable opportunity to speak to an ex-political prisoner. It is a precious heritage site, as well as a cultural and natural conservation area.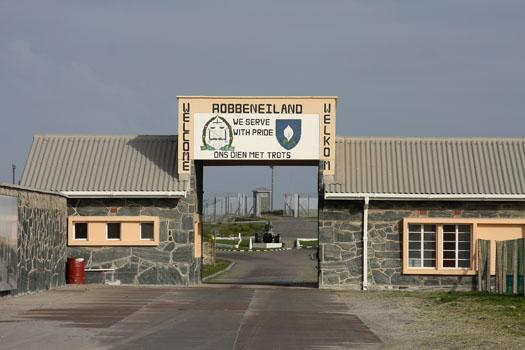 Clifton and Camps Bay
Some of the most beautiful beaches in the country are within 20 minutes from the center of Cape Town. Clifton and Camps Bay lie between Sea Point and Llandudno. Clifton's four beaches are sheltered, boulder-hugged stretches of white sand, reachable by a staircase from Victoria Road. Camps Bay is situated on a lively and palm-lined stretch of Victoria Road with trendy cafes and restaurants in which to enjoy cocktails and sundowners.
Boulders African Penguin Colony
If you are planning a drive to scenic Cape Point, Boulders Beach is a worthy stop. In addition to the beautiful, sheltered beach, the area is home to a colony of African penguins. Visitors can get close by walking the wooden boardwalks around Foxy Beach or sharing a section of Boulders' fine, white sand with a penguin or two. Boulders Beach is a great outing for kids and makes an excellent addition to a tour of Cape Point's incredible views.  There are a lot more great family things to do in Cape Town to keep everyone happy.
Nightlife
Cape Town comes alive at night, with a wide selection of nocturnal options. Join an African drum circle at a local backpackers or sip on a cocktail on a rooftop terrace. Dance until the sun rises in one of many clubs, or smoke a cigar in a jazz lounge. Assembly hosts live music, with many fantastic local bands. If dancing is what you're after, Club 31 will provide it, along with incredible views of the city lights, as it is located on the 31st floor of the Absa building in the CBD.
Festivals
Cape Town and its surrounds play host to plenty of music festivals throughout the year, including Up the Creek, the Cape Town International Jazz Festival, RAMfest and Synergy Live, amongst many others. The Stellenbosch wine festival in late January is always worth a visit, and only a short drive from Cape Town. Kirstenbosch hosts the Summer Sunset Concerts throughout the warmer months, with many of the country's best local acts. Various food, beer, and wine festivals occur throughout the year as well, giving locals and visitors access to even more excellent and unique cuisine and alcohol.
For traditional, local Cape Malay cuisine, Nigerian Suya and Namibian venison, GOLD spans the continent to provide excellent and authentic dishes from several African countries. Combined with interactive drumming sessions, GOLD is an out of the ordinary, exhilarating way to experience African food styles. Tanzania, Kenya, Mozambique, and Morocco (amongst others) are all on the menu.
This beach café and restaurant is situated in Granger Bay, right behind the Greenpoint Stadium. A converted warehouse forms the indoor section of the restaurant, but the best experience at the Grand is to sit at one of the outdoor tables, with your feet in the soft white sand. The Grand can seat up to a thousand, but the relaxed beach atmosphere makes this spot an essential, whether for a meal or sundowners.
Still something of a hidden treasure, Julep has an excellent reputation for well-crafted cocktails and tapas. This small and intimate bar is open from 7 pm daily and can be found in Vredenburg lane off Long Street.
Beta Beach and Oudekraal
Private and secluded, with marvelous views of Lion's Head, Beta Beach is the perfect spot for anyone wishing to escape the regular crowds at Camps Bay and Clifton. Oudekraal is similarly private and surrounded by large boulders, within a sheltered cove. This beach is a part of the Table Mountain nature reserve, so there is a conservation fee. Both of these peaceful inlets are wonderful for visitors seeking a tranquil afternoon at the beach, and the sheltered waters make for relaxing swimming and snorkeling.
Mount Nelson Oasis Bistro and Planet Restaurant and Bar.
The famous hotel has two excellent restaurants that serve a mixture of local and international cuisine in stylish settings. Oasis offers breakfast and lunch on a sunny terrace, while Planet's colonial elegance provides the space for cocktails, French champagne, and five-star dinners. The famed afternoon tea at the hotel is also a decadent and worthy way to spend an afternoon.
When to visit
Cape Town has a Mediterranean climate with dry, warm summers and mild, but wet winters. Cape Town's hot, dry summer months run from late October to end of March/ beginning April. Temperatures are highest between December and February.
The winter months run from June to August, and get the most rain. If you visit Cape Town during this time, you may get several days of heavy rain and strong winds. It will, however, be quieter with fewer people, and when the weather clears you will be able to enjoy the great attractions without the crowds.
From September onward the weather begins to improve, and it becomes a bit warmer, and the migrating whales arrive from the Whale Coast, and the fields of flowers start to open up the West Coast.
Do try to visit Cape Town in the summer; it provides you with the ideal weather to explore the city in full.