Mauritius Beach Holidays
Mauritius is perhaps one of the most romantic honeymoon locations in the world. Villas line the beaches, golf courses fill its interior and coral reefs surround this island nation. This is all set to a backdrop of a rich cultural history that dates back to times of the Arab traders and the European conquest for Africa.
Mauritius is renowned for sightings of pods of dolphins on the West Coast and having exquisite diving opportunities in the Coral Reefs of the coastline. Water sports are available in abundance, as well as boat trips to the islands of Ilot Gabriel and Ile aux Cerfs and sailing the coastal waters on catamarans.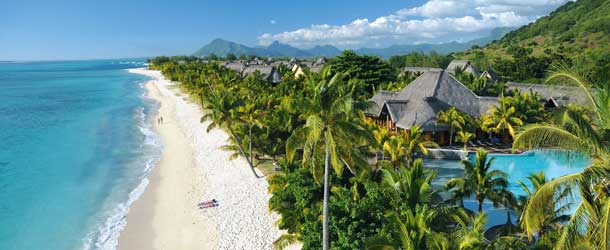 FEATURED MAURITIUS BEACH HOTELS
For some inland adventures, you can hike the Black River Gorges or visit the caldera lake of Grand Bassin. Mauritius is also a destination rich in cultural history which can be experienced in the colorful trade markets filled with clothes, local foods (especially tropical fruits) and other arts and crafts.
A highly recommended place to stay in Mauritius is Maradiva. This exclusive lodge is made up of stunning five-star catered villas, combined with the unique pleasure of being able to open your bedroom door onto a white sandy beach, make this secluded beach resort one of the world's most desirable holiday destinations.