Sanbona Private Game Reserve
Comprising a six-suite 100-year-old farmhouse, a family lodge consisting of 12 interconnecting rooms, and two luxury tented camps, Sanbona Private Game Reserve unites the best of the old-world safari with the amenities and expectations of the twenty-first century.
Situated along Route 62, in the arid Warmwaterberg Mountains of the Klein Karoo region, Sanbona is not only luxurious in its accommodation options, but also environmentally-friendly. One of the largest wildlife conservancies reachable from Cape Town by road (in just over three hours), the 58,000 hectare estate is home to many of Africa's most iconic species, from lion and elephant, to rhino and giraffe.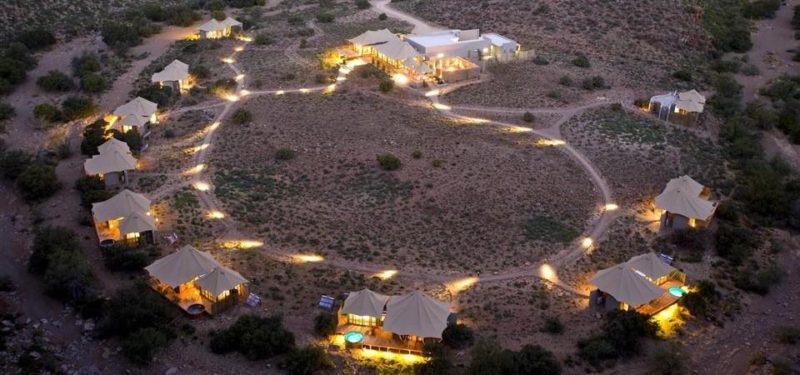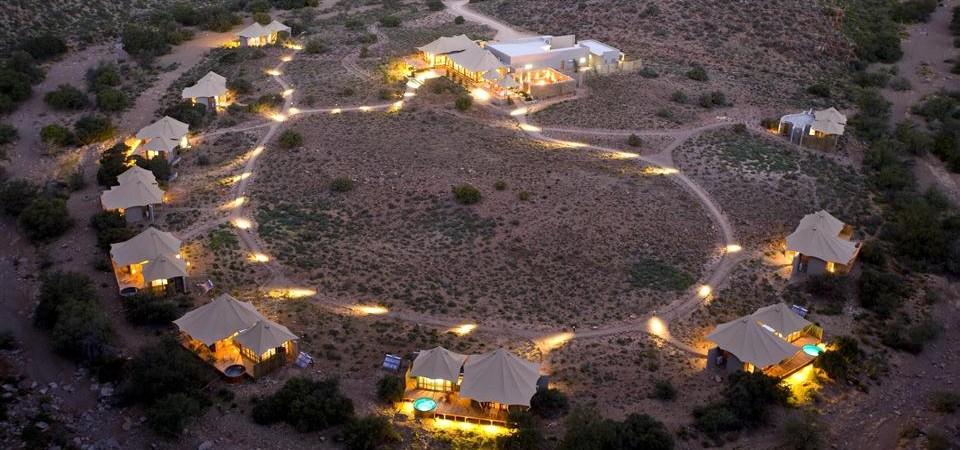 Sanbona Safari Packages
Introducing the Sanbona Safari Lodges
Overview
The old farmhouse, Tilney Manor, consists of six spacious open plan suites, styled to the needs of the modern traveller in muted tones, each of which has its own private veranda. Similar in style is the thatched Gondwana Family Lodge, made up of suites of interconnecting rooms ideal for families. With a nod to this, there's a children's playroom inside, and another play area outside, along with a child-friendly pool.
Nine luxury tents make up the year-round Dwyka Camp, with a further location, the Explorers Camp, available during the summer months of October to April. Dwyka's tents offer an incredible array of facilities, from en suite bathrooms to heated Jacuzzis with decked area, while the Explorers Camp is a little more basic, with shared bathroom facilities, for those looking to experience the Little Karoo in greater depth.
Tilney Manor
Sanbona's turn of the century farmhouse, Tilney Manor, has been fully and luxuriously renovated to provide six airy open plan suites complete with private verandas looking out onto the stunning Karoo mountain landscape and indigenous garden.
Dwyka Tented Camp
Magically blended into the surrounding landscape in a horseshoe-shaped bend in a dry riverbed for a truly authentic yet secluded ambiance. Tranquillity is taken to another level at the Relaxation Retreat, while a splendid boma provides a shared space in which to dine and share stories across the campfire.
Gondwana Family Lodge
This spacious thatched lodge has incredible views across to the Anysberg Mountains and over the Bellair Dam, while providing families and groups all the comforts of the modern world inside.
Explorers Camp
The fully-qualified guides that lead the walk are there to point out the smallest of details while leading the two-day trail. The camp can be experienced between South Africa's summer months of October and April, with departures every Friday.
Shared Spaces
An indigenous garden of endemic plants adds color and interest to Sanbona's proximity, while the rim-full swimming pool and lounge area is a perennial favorite with guests. To take full advantage of the reserve's five-star experience guests can also opt for spa sessions at Relaxation Retreat, while a boma provides a shared space in which to dine outdoors and share stories of the day's adventures with fellow guests.
Safari Experience
The 58,000 hectares that make up Sanbona provide ample space for all the region's wildlife. The expertise of the trained guides means guests are sure to experience the wonder of encountering majestic elephant and regal lion, to mention just two species, within their natural habitats, a guarantee that is hard to match in larger game reserves.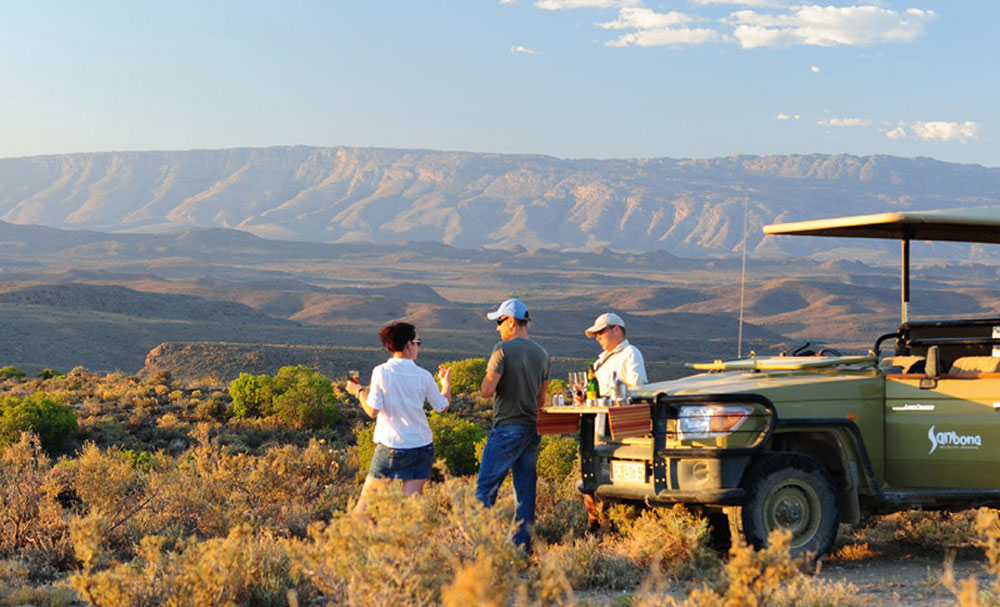 Activities
There are daily game drives taking in the reserve in search of its free roaming animals, as well as nature walks through the surrounding bushveld, a particular highlight for bird lovers of all ages. Learn more about the night sky around the campfire as night falls, and then jump into a boat for a very special waterborne safari come daybreak.
Want to Keep Exploring South Africa?