Madikwe Game Reserve
A safari destination like no other, Madikwe Game Reserve is in a class of its own as it offers some of the most spectacular game viewing opportunities in South Africa due to its unique biodiversity and diverse landscapes. Bordering on Botswana and the North West Province, it is a 3.5-hour drive from Johannesburg and Pretoria.
Covering 75 000 hectares of a pristine natural environment, it is one of South Africa's largest nature reserves, is home to 66 species of mammals and 300 magnificent bird species.
Uniquely set in a transition zone between the Lowveld Bush and the Kalahari Thorn fields, this provides a diverse ecological region for the reserve, making it one of South Africa's finest malaria-free safari destinations to visit. Madikwe has been proclaimed on the grounds of being one of the most sustainable properties of its kind, where their focus lies on reclaiming and maintaining the reserve as a joint relationship between the state, local communities, and the private sector.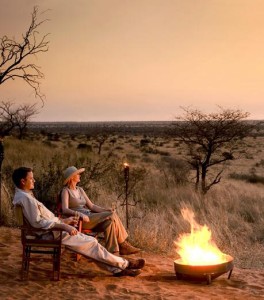 Selected Madikwe Safari Lodges
Offering 11 lodges in total, the reserve is a perfect family destination, welcoming children and catering to their needs with an extensive range of activities.   All the camps offer spectacular game drives, conducted twice a day, at dawn and dusk, and private bush walks really give visitors the experience of being 'up close and personal' to nature.
Access
You can drive yourself there, but the lodge is also easily accessible by road transfer and air. We can help you coordinate all of your travel before your arrival – even arrange for a meet-and-greet service at the airport. The gate entrance to the lodge opens at 6 am and closes at 9 pm, so you will want to make sure you can arrive at these times.