Zanzibar Holiday
At the end of the amazing Tanzanian safari routine of Serengeti and Ngorongoro crater, suffused with overwhelming pictures of nature and the awesome creatures of East Africa, Zanzibar is the perfect spot to digest this staggering experience while relaxing in an environment that perfectly combines ancient culture and paradise beaches.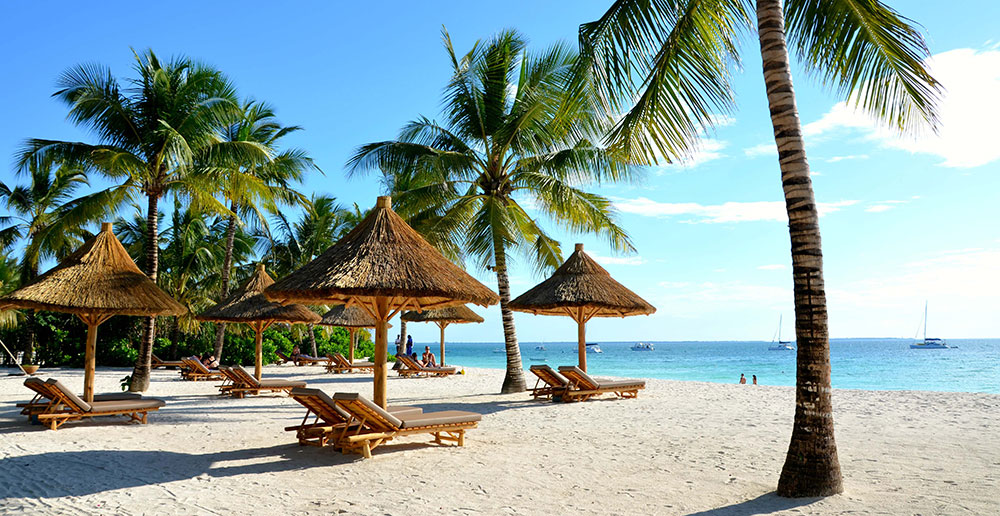 FEATURED ZANZIBAR & SAFARI PACKAGE
SELECTED ZANZIBAR BEACH HOTELS
History and Culture
Looking back on a history as a major port during the era of the world's exploration and colonization, Zanzibar gained its riches through spice, slave and ivory trade. Only during the 19th century, the accumulating wealth leads to the gradual replacement of a humble little fishing village with a harbor by Zanzibar Stone Town, a UNESCO World Heritage Site since 2000.
How to travel there
Several international and domestic airlines arrive daily at Zanzibar International airport, ferries offer speedboat services and regular ferries from Dar Es Salaam to Zanzibar.
Zanzibar Stone Town
Expect to discover architectural jewels and interesting moments around every corner. And corners are many in Stone Town. The House of Wonders, Beit al Ajaib, the sultan's palace, serving as a museum these days, or the Old Dispensary, nowadays called the Cultural Center, with its rich decorations and filigree balconies, are just two of the many most artful and unique buildings, with artfully ornamented woodwork and impressive mahogany doors.
An evening must visit are the Forodhani Gardens at the waterfront. Forodhani sounds like food to you? Right!  It is the local night market, offering plentiful spicy and sweet Swahili food specialties: Samosas with various fillings, packed potatoes with tangy tamarind sauce, bajias with coconut chutney, freshly caught fish in coconut milk (samaki ya kupaka) with crispy chapati bread. Desserts are many: sugar dipped kaimati or holey rice flour cakes, syrop-dripping doughballs, best with a tiny cup of original ginger and nutmeg coffee. Well yes, most of them are deep-fried, but hey – it's a holiday and a unique opportunity to taste original spice island cuisine, a blend of Indian, Arabic and African ingredients.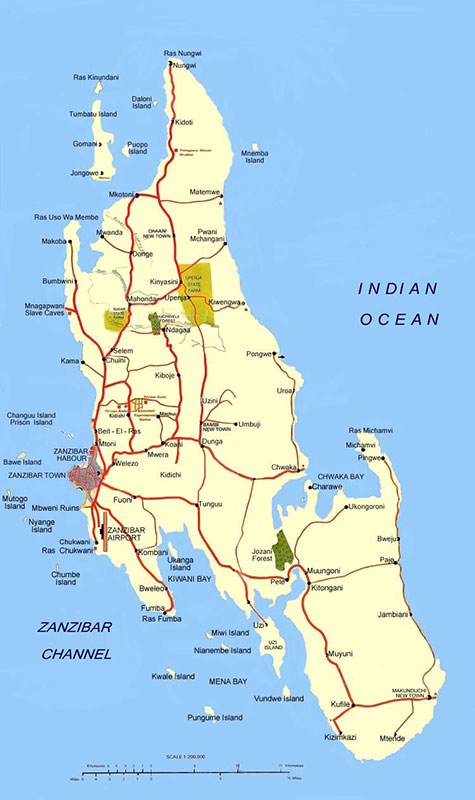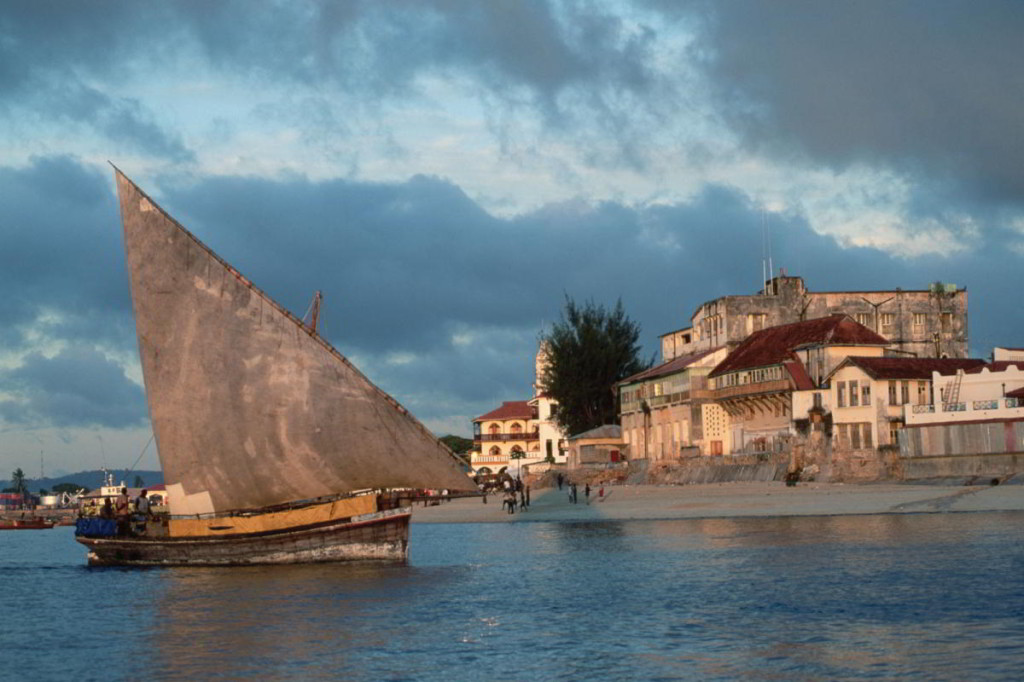 The secret of Stone Town is to just get carried away into the maze of little alleys and passageways. Admiring colorful glass stained windows, the typical massive carved doors, busy women in hijabs or colorful 'lesos', the typical East African cloths, coming in pairs, one wrapped around the waist, the other covering the shoulders. What a wonderful and unique souvenir or present, to take home with.
Take in the feeling of the town with all your senses and enjoy the adventure of getting lost between arty houses, tiny shops, colorful bazaars, and white-washed mosques. When thirsty, refreshing and extremely healthy coconut water from one of the many wooden carts (mkokoteni) at every corner is the right thing to try. Or sample freshly pressed sugarcane juice with a dash of lemon and ginger, squeezed by anciently looking cane presses.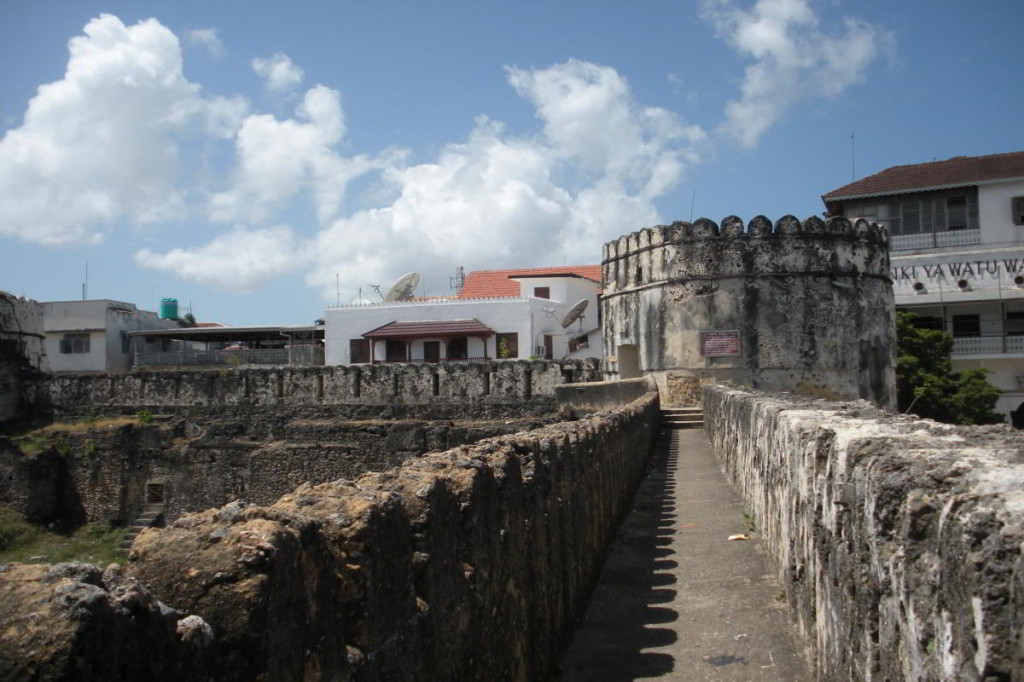 Beaches
The best beaches are – everywhere. Turquoise blue water on virgin white sandy grounds, laced by coconut trees are merging into bright blue skies. Watch the women of Bwejuu village bringing in heavy sacks of seaweed in different colors, indigenous to the East Coast of Unguja (the official name of the Zanzibar archipelago's biggest island). Find patches of the tree-like looking weed spread onto the beach for drying, to be distributed to manufacturers of luxurious cosmetic products. Take a floating bunch and give yourself or your partner a full body rub. What a feeling.
People
The people of Zanzibar are a mixture of mixtures, influenced and molded by the rich history of the island. Arabs, Persians, Comorians, and Bantus blend into the friendly island population. What more than 95 % of the population have in common, is that they are Muslims. Therefore some decency in attire off the beaches is strongly recommended.
Why visit
A perpetually growing number of tourists discover Zanzibar as Tanzania's best place to enjoy vibrant bubbly town life, full of history and culture, mixed with dreamlike beaches for relaxation, snorkeling, diving or sailing into the sunset on one of the traditional wooden sailing boats, called dhows.