The lodge is located right on the waterfront, within walking distance of the romantic Dhow boat cruises at sunset. Each of the three magnificent mansions has a story to tell, each being over a 100 years old.
Accommodation
Ibo Island Lodge is made up of 3 old restored Portuguese mansions, surround by lush tropical gardens. The lodge is not on a private island resort, so guests can interact with local and fellow visitor alike to get a taste of real oceanic Africa.
The rooms either have oceans views or they look out over the magnificent tropical gardens. The rooms have great verandas, decked out in plush cushions and the most beautiful handcrafted furniture. Mansion Bela Vista is the public area of the lodge where you will find the restaurant and main garden pool. The main restaurant is situated on the rooftop terrace that overlooks the bay and the mangrove forests in the distance.
The three mansions are split between Villa Paradiso and Villa Niassa, with Villa Bella housing the guest areas. All the bedrooms are uniquely and individually decorated but have the same luxurious finishes.
All the rooms have ensuite bathrooms and have air conditioning, ceiling fans and large windows for those who prefer an ocean breeze. The rooms also have a safe, hairdryer, mosquito net and flask. Tea and coffee get brought to your room every morning.
Ibo Island
Ibo Island is one of the oldest settlements in Mozambique: Its 500-year history tells a story of slavery and pirating, of smuggling and buccaneering, but it is this history that shaped the island into the hidden gem it is today.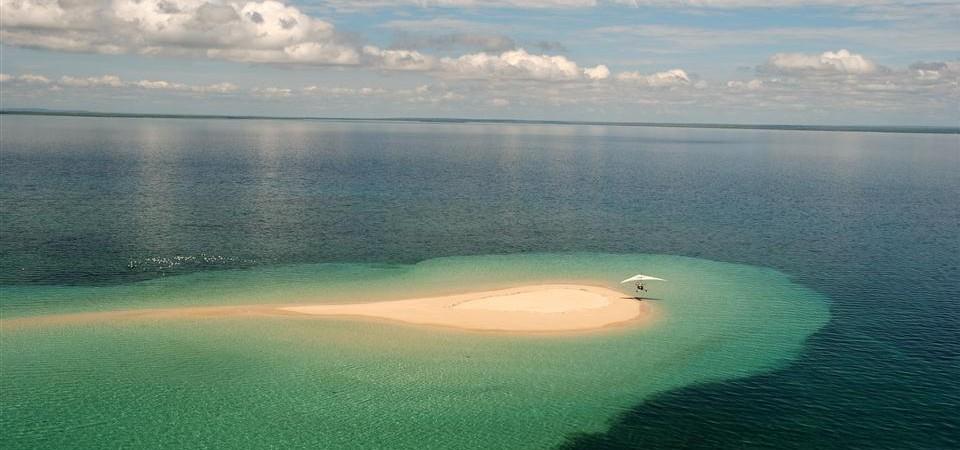 Grand colonial buildings still line the streets, where many majestic forts guard the coastline. Portuguese sailors fortified the island in 1609, and Fort São João became a vital slave port by the late 18th century. Today, travelers can still see the well-preserved imperial architecture. In 2002 the Quirimbas National Park was created, providing preservation for the marine life. Ibo Island has been nominated for World Heritage status.
A great way to start your stay is to take the "Ibo of Old" experience walk, where the experienced lodge guides will talk you through the history of mansions and island, and even share a legend or two.
Ibo island does, however, have a little secret: 20-minute on a boat out to the ocean will lead you to a hidden sand spit beach that only reveals itself during low tide. All traces of humans gets washed away when high tide rolls in. This sand beach offers completely private swimming, and the lodge offers free boat transfers there and back. Guests can also enjoy breakfast or lunch on this beach under a romantic Bedouin-style tent.
Facilities
Swimming pools
Rooftop terrace
Spa
Restaurant
Bar
Wedding venues
Conference facilities
Nightclub
Curio Shop
Laundry service
Bicycle rental
Tour Desk
Activities:
Dhow island tours at sunset
Cultural heritage excursions
Scuba diving and snorkeling
Watersports
Guided mangrove trips
Humpback whale spotting