Cape Town is a noted business tourism destination, with a number of world-class conference centers available to suit both small and large events. Safari Guide Africa has experience putting together small, medium and large corporate events in South Africa. If you or your company are interested in setting up an event in Cape Town, please get in touch with us.
We would also like to offer you our knowledge and experience for creating wonderful incentive travel packages for companies, both locally and internationally based. Cape Town is the ideal city for incentive travel packages as there is a fantastic selection of top-class hotels, wonderful sightseeing activities and fabulous dining experiences all compacted into this very vibrant and energetic city. We will be happy to assist you in putting together an experience that will truly be memorable for your entire company.
1. Cape Town International Convention Center (CTICC)
The CTICC has the stated goal of being the world's "best long-haul international convention center by 2012", and it is already closed. With stylish, modern venues, the best convention services in the country, and links with some of Cape Town's finest hotels, the CTICC should be your first port of call when planning any large convention.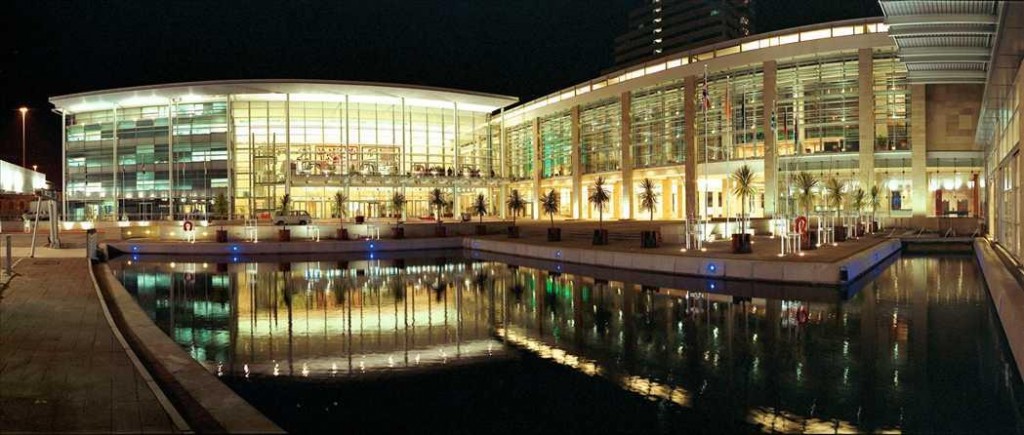 Contact
Telephone: +27 (0) 21 410 5000
Website – http://www.cticc.co.za/public/main/home.aspx
Location
The CTICC is located at the southerly entrance to Cape Town city center, at the bottom of Buitenkragt road, and just a stone's throw away from the V&A Waterfront. This excellent location affords delegates the choice of two luxury hotels next door, plus ideal access to nearby attractions.
Size and Capacity
The CTICC has a number of venues from small intimate restaurants to large auditoriums, all linked by a double story walkway:
Marimba Restaurant – 200 sit down or 500 cocktail party
Auditorium I – seats 1,500
Auditorium II – seats 620
Trade Show Center – 11,800 m2 of sub-divisible floor space. Ceiling height 18m. Up to 3,000kgs/m2
Grand Ballroom – 1,300 banquet style, 1,020 buffet style
Meeting Rooms – Sub-divisible. Up to 300 delegates
Thirteen Meeting Suites – Up to 24 delegates
Facilities
Fully restaurant catering service
Hotel and transport service
Fiber-optic gigabit LAN, broadband and wi-fi
State-of-the-art A/V equipment
One of the largest and most advanced kitchens in the Western Cape
Laser pointers and presentation equipment
2. One & Only Hotel
The One & Only is a new hotel on Cape Town's foreshore and offers unparalleled luxury and world-class service to guests and delegates. It boasts brand new conference facilities, with every modern convenience and technological innovation you'd expect.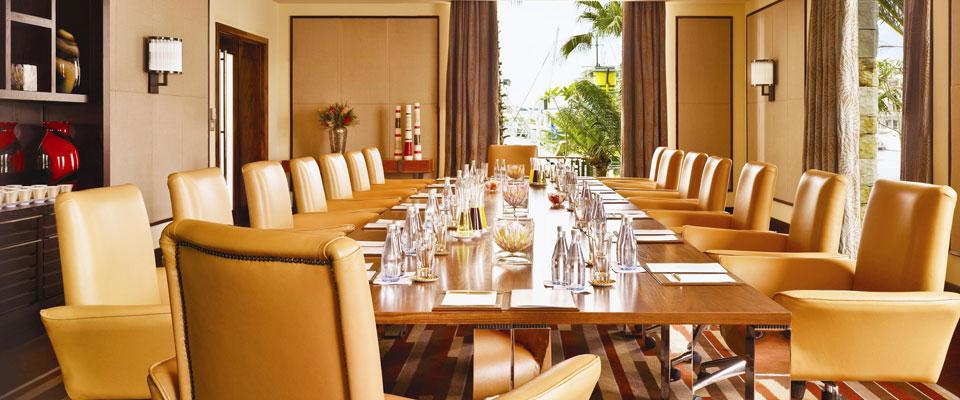 Contact
Telephone: +27 (0) 21 431 5212/5090
Website – http://capetown.oneandonlyresorts.com/celebrationsandevents/corporate.aspx
Location
The One & Only is situated on the Victoria & Alfred Waterfront, one of Cape Town's most treasured tourist destinations, and offers visitors excellent views of Table Mountain from their balconies. The Waterfront itself is always a hub of activity, with excellent shopping venues, and the location offers easy transport to many major tourist destinations.
Size & Capacity
The One & Only offers three conference venues, plus the use of an exclusive restaurant and outside pool area:
Ballroom – 50 – 200 guests, depending on the layout
Marina Room – 20 – 40 guests, depending on the layout
Business Center Boardroom – 12 guests boardroom layout
Facilities
Presentation equipment
Conference pen and pads
Mineral water and sweets
Catering services
3. Mount Nelson Hotel
The Mount Nelson is a Capetonian institution, beloved by locals and guests alike. With its grand colonial gardens, high-ceiling halls with wooden paneling, and old-world charm, it offers your delegates an unforgettable Cape Town experience, as well as offering world-class conference facilities.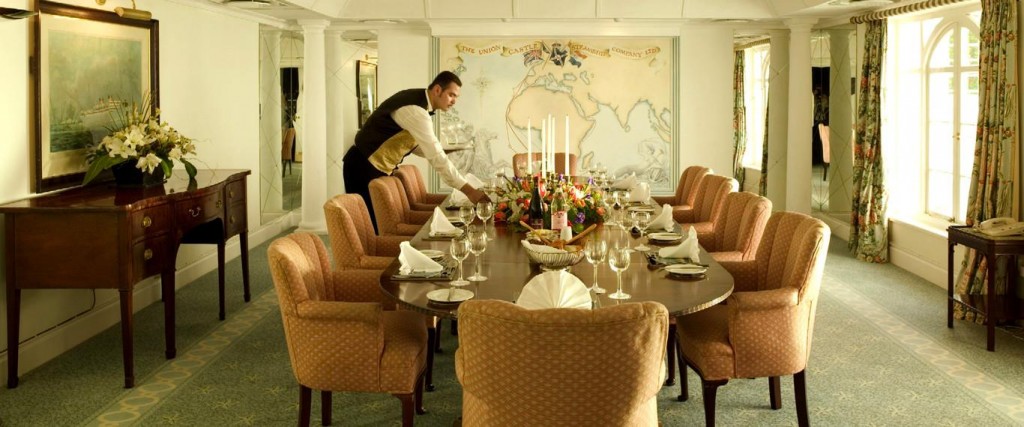 Contact
Telephone: +27 (0)21 483 1737
Website – http://www.mountnelson.co.za/web/ocap/meetings_and_conferences.jsp
Location
The Mount Nelson is located at the Northern entrance to Cape Town's city center and enjoys a privileged place at the foot of Table Mountain. The location allows easy walking access to many nearby attractions and night spots, as well as short drives to places like the V & A Waterfront and the Table Mountain Cable Car.
Size & Capacity
The Mount Nelson offers a number of venues for private or corporate use, all of which are fully prepared to handle anything from a banquet to a strategy workshop:
Ballroom – Up to 400
Garden Room – Up to 150
Union Castle Room – 14 guests
Orchid Room (Cocktail Lounge) – Up to 45
Green Park Room – Up to 60
Lord Nelson Room – Up to 40
Grill Room – Up to 100
Facilities
Broadband internet and wi-fi
Presentation equipment
Full catering and fine dining
Swimming pools
Fitness center
Tennis courts
Hair salon
4. Spier Wine Estate
Spier is one destination near Cape Town that no visitor should ever miss. This idyllic wine estate, with rolling green lawns and beautiful colonial buildings, is the perfect place for your delegates to relax and unwind, away from the bustle of Cape Town city itself, but close enough to enjoy it. The below image indicates the variety of options available for a meeting, conferencing and events.

Contact
Telephone: +27 (0) 21 809 1100 ext 2
Website – http://www.spier.co.za/conference/home
Location
Spier Wine Estate is located about a 50-minute drive out of Cape Town, taking the N1 freeway, in the heart of wine country. The location offers sweeping views Winelandsnelands, Table Mountain and the Hottentots Holland mountains, and is close enough to Cape Town to visit tourist destinations there by car. There is also a luxury vintage train that goes from Cape Town to Spier, which is an adventure well worth experiencing.
Spier has a large number of conference facilities, and focuses on "conscious conferencing", aiming to provide conferencing facilities in a low-carbon, low-impact way.
Size & Capacity
There are seventeen different conference venues at Spier to accommodate delegations of various sizes. Some of the highlights include:
Conference Center – Seats 450, with three break-away rooms which together seat a further 250
The 1822 Manor House – Contains three small meeting rooms of various sizes
Hotel Boardroom – Up to 12 delegates
Amphitheater Meeting Rooms – Two which can seat 20, and one which seats 40
River Bomas – Thatched huts on the south bank of the river, ideal as break-away spots
Facilities
Broadband and wi-fi
Wine tasting tours
Full catering and fine dining
Cheetah sanctuary
Restaurants and bars
Luxury train transfer (not to be missed!)
Presentation equipment
5. Table Bay Hotel
The Table Bay Hotel is a magnificent 5-star luxury hotel located in what it proudly calls "the best address in Cape Town". With unparalleled views of the ocean and Table Mountain, and luxurious conference facilities and rooms, the Table Bay Hotel offers everything you could want in a luxury international conference venue.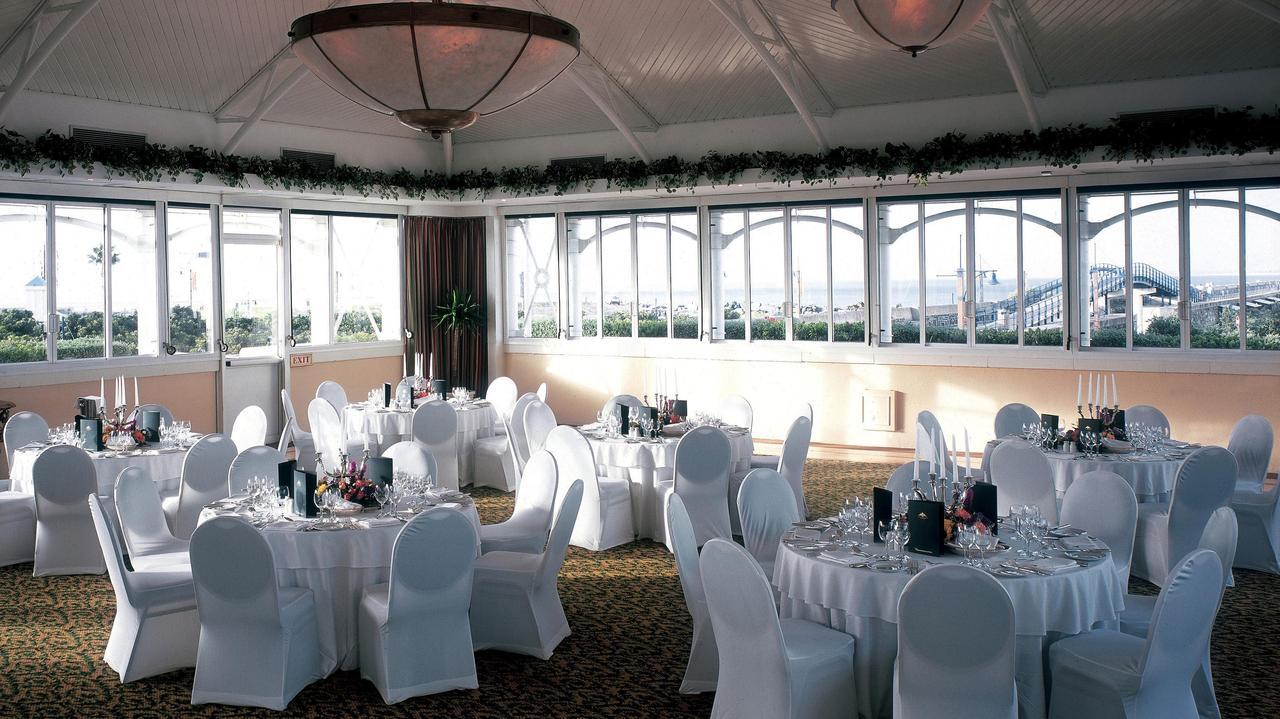 Contact
Telephone: +27 (0) 11 780 7810
Website – http://tablebay.suninternational.com/
Location
"The best address in Cape Town" is no idle boast – The Table Bay hotel occupies the premier spot in the V & A Waterfront, and is an imposing feature of the harbor skyline. Quick shuttle transport is available to a large number of local attractions, like the Table Mountain Cable Car, Clifton, and Camps Bay beaches, and Long Street.
Size & Capacity
The Table Bay Hotel offers three premier conference facilities of various sizes, plus a cocktail venue:
The Ballroom – Seats 200 for dinner, 300 cinema-style
Pre-Function Area – Accommodates 200 guests for cocktails or registration, with an outdoor terrace which can accommodate a further 100 people
The Pavillion – A romantic cocktail venue, which can accommodate 200 for drinks
The Boardroom – Seats 24 delegates
Facilities
Audio-visual equipment (for hire)
Presentation equipment
Fully catered and fine dining
Tour operators
Spa and fitness center
Hotel concierge and chauffeur service