So you are ready and packed for your great adventure into some of Africa's most pristine environments to come and explore a true African safari like no other. There will be so much to see and do during your getaway in the bush, especially when it comes to seeing the BIG FIVE that you really don't want to have to worry about those tiny little 'bitters' they call mosquitoes. When traveling through Africa, malaria is quite a concern, more so in some places than others, so it is worthwhile being fully prepared and knowledgeable about what repellents and other methods of protection you can use before you start traveling.
---
Quick Picks
Natrapel 8 Hour insect repellent – CDC Recommended & DEET free. (We Recommend)
Mosi-guard – 100% Natural.
Picaridin (20%) DEET alternative
Jungle Formula (for 6 years old & up) 50% DEET.
---
There is plenty of information on the web about malaria, what it is, symptoms and how to treat the symptoms. So we recommend that you take some time to do a little research for yourself if you know you are going to be exploring a malaria area on your travels.
We would like to provide you with some useful information about mosquito repellents to guide you in your preparations.
Products to buy from Amazon
Most pharmacies or travel clinics should stock at least one of the below-mentioned repellent products, but if not you can buy them from the specific online stores that we mention below directly or from Amazon
 who may have better pricing and faster delivery.  You will also be able to buy products in Africa but to prevent spending hours of your precious trip searching in the shops, we recommend that you buy at least one bottle before you leave.
Which mosquito repellent to buy?
As far as repellents go (and there are many out there to choose from!) you need to remember that the repellent MUST be effective. Buying something cheap or maybe not concentrated enough is not worth the risk. You will see that the underlying ingredient in most of the repellents is called DEET. The higher the concentration of DEET, the longer the period of time the product will last. The Safari Store explains that a "standard 20% DEET repellent will usually last 4 to 5 hours, while a product with 80% DEET will last for 8 to 10 hours."
DEET is an extremely strong repellent, so read the label closely. Reviews express that DEET is able to corrode plastic sunglasses, watch straps and discolor clothing, so do take care. Refrain from applying DEET directly to the skin in its pure form or breathing it in.
Here are some internationally recommended products to consider and it has been recommended that a combination of two repellents can be used, just to be sure!
RID Tropical Insect repellent: this is an Australian produced product and one of the strongest on the market. It is used for repelling all types of flying insects and is safe to use directly on the skin and clothing. This comes in both a spray form (highly recommended) and roll-on, as well as a kid, RID insect repellent. For more information on RID visit: http://www.thesafaristore.co.uk/products/Accessories/RID-Insect-Repellent/RID-Insect-Repellent/
Natrapel 8 Hour insect repellent: this is a CDC recommended product based on 20% Picaridin formula and is DEET FREE. It is safe to spray on your skin and clothing. For more information click here to find it on Amazon.
Picaridin (20% solution): this product is said to be as effective as DEET, but more pleasant to use. Could be used together with RID. For more information visit the selection Amazon.
Mosi-guard (NATURAL OPTION): this is another Australian produced product that contains the active ingredient OLE (Oil of Lemon Eucalyptus) "Mosi-guard is often praised by travelers to Africa and is often available in African and English stores. If you are an Amazon shopper, here is a link to their selection."
Jungle Formula: contains 50% DEET and is often recommended by travel clinics. This is an ozone-friendly product and comes in a spray form which makes ease of application to the skin easy. This is also an appropriate product for children 6 years and up. For more information visit Amazon
's selection of Jungle Formula.
NOTE: repellents only containing citronella oil such as candles, sprays or roll-ons are not strong enough and we recommend that you try to obtain at least one of the above products. One bottle for seven days of travel, per person.
Here is also a great website with reviews for a whole range of mosquito repellents available: http://www.woodsmall.com/really-complete-insect-repellent-information.htm
Mosquito repellents for children and babies:
It is recommended not to use products with high concentrations of DEET (7% is the maximum) on young children, especially on children two years and younger. You want to avoid applying products that do contain DEET to children's hands as they often rub their eyes and mouths. A recommended product is:
RID Tropical Insect repellent: this is an Australian produced product and one of the strongest on the market. It is used for repelling all types of flying insects and is safe to use directly on the skin and clothing. They have a kids' spray, which is a special formulation. For more information on RID for kids visit: https://www.chemistwarehouse.com.au/buy/37136/rid-medicated-insect-repellant-tropical-strength-roll-on-100ml
According to The Safari Store, "in RID's 54-year history they have not received any complaints regarding skin irritation and in Australia, and KIDs RID is the only product specifically available for children."
NOTE: If you are traveling with a very young baby, it is recommended that you consult your local travel doctor for the best advice. You can visit this site for further information concerning traveling with young babies: http://www.wellontheroad.com/illnesses/malaria3.html
Electronic mosquito repellents:
It is not recommended that you only rely on an electronic repellent, but the following product is one that can be used if would like. The Mosquito-Go Duo (Continental Europe) is a recommended option. It is a liquid-vapor mosquito repellent that needs to be plugged into an electricity socket. Visit Amazon
 to find out more and to buy online. Local travel stores in your country might also stock something similar.
Interesting Fact
Have you ever wondered why most people of safari are all dressed in naturally toned or lightly colored clothing (or 'khaki' clothing as the also sometimes call it)? Yes, it is because you blend in better with the environment and the 'cool' colored clothing helps to keep your body temperature down during the sweltering midday heat, but interestingly mosquitoes are also less attracted to these lighter colors than dark ones. So think about packing in a lovely set of light colored cotton pants and shirt for your safari adventure!
Malaria Map of Southern Africa (from: http://siteresources.worldbank.org/NEWS/Images/malaria-map.jpg)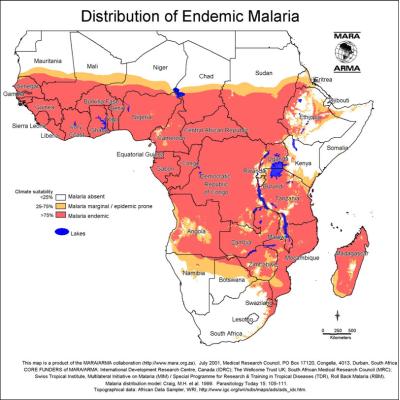 This map will give you some idea of the areas in Africa that are high-risk malaria zones.
Mosquito repellents are definitely important to use on your travels, but some others useful tips to remember are the following:
Make sure that you have long shirts and pants (trousers) to be worn most of the day, but especially in the early mornings and late afternoons (evenings) as these times of the day are when mosquitoes are most active.
Also, wear socks with your shoes to prevent those bare ankles from sticking out and being a soft target for those little 'bitters.'
Use a handkerchief or bandanna spray with repellent (especially DEET repellents that should have minimal contact with skin) and place around your hat and ankles.
Most safari lodges do provide mosquito nets for a buzz-free, nights sleep.